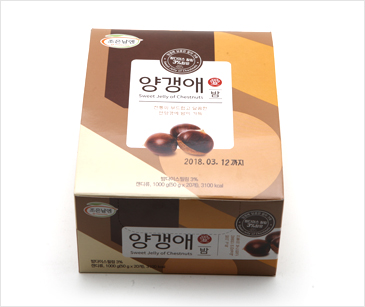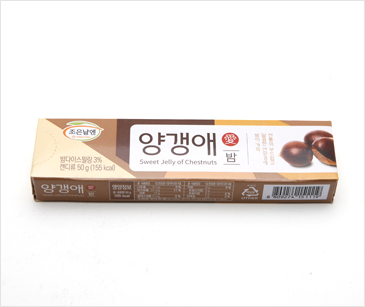 Yanggangae chestnut on a good day
Food Type: Candy (Bean jelly)
Packing Material: Polyethylene
50g, 80 pieces/ box

Red bean paste (red bean- China), brown sugar, isomaltooligosaccharide, syrup, glucose powder, chestnut dice [chestnut dice 62.5% (chestnut54.6%/ China)] 3%, agar powder (Korea), synthetic flavoring ( chestnut flavor)

This product is delivered to the army welfare unit as 50g single product.
'Yanggangae' is a representative brand of Samsung Food, which has being supplying bean jelly to large food and distribution companies for 25 years with its own registered trademark.
It contains more than 10% of isomaltooligosaccharide which is good to health, and you can enjoy the unique taste of chestnut.