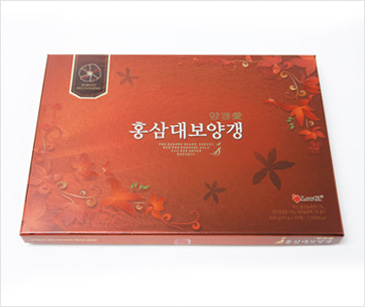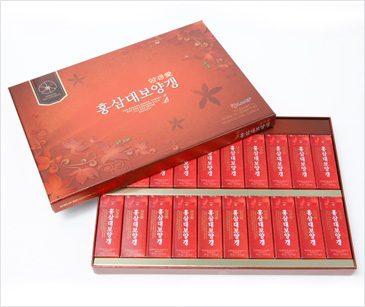 Yanggangae red ginseng bean jelly
Food Type: Candy (Bean jelly)
Packing Material: Polyethylene
45gx 20 pieces, 1 set

Red bean paste (white sugar 60%, red bean paste (red bean-Korea): 40%), fructooligosaccharide, syrup, white bean jelly (white bean-Myanmar), glucose powder, palatinose, red ginseng concentrate 1% (red ginseng ingredient 70mg / g, solid powder 60%, Korea), Daebo concentrate 1%, ginseng puree, agar, synthetic flavoring ( red ginseng flavor)
Red ginseng concentrate 1%, Daebo concentrate 1%, Korean red bean paste 18%

It is a nutritious snack contains Korean red ginseng concentrate and Daebo concentrate, and can be enjoyed by anyone.
It is a premium nutritious snack containing Korean red bean (low GI, natural raw material) and palatinose.
'Yanggangae' is a representative brand of Samsung Food, which has being supplying bean jelly to large food and distribution companies for 25 years with its own registered trademark.